The new generation of boilers Clayton type attached to the computer application and to the history and experiences of industrial series Prodinco, SA It allows the construction of thermal power stations fractional horsepower with maximum performance management, security management and does not require specific driver boilers, almost always framed in category "C".
Standard design pressure of 65 bar, other pressures up to 120 bar on request. Package boiler superheated steam of 70 bar at 400 ° C.
Energy saving power fractionation
The high cost and continuous increase in fuel prices, forces to perform energy audits and actions, improvements and reforms in industrial facilities to reduce energy costs, for example, is now difficult to find industries with boilers of some importance (5-40 t / h) not installed economizers in the output gas boilers and also optimized its distribution networks and steam consumption. Prodinco, specializing in the design and manufacture of water-tube boilers of recovery, commitment to power fractionation technique, involving the installation of multiple boilers smaller rather than a larger unit. This technique allows the boilers always operate at their optimum work area, facilitates control of La Central and reduces the need for the boiler room space, while allowing achieving significant savings.
Features and advantages of the steam generator CLAYTON
water tube boiler
The pressure is endured by the inside of the tubes, not by a ferrule.
INSTANT PRODUCTION
The start times of the boiler system are about 5-10 minutes depending on model against the Prirotubulares 45/60 minutes.
WATCH INDIRECT
No driver is required with meat boiler operator.
CATEGORY C
No need Boiler with concrete containment courses and light covers. They can be placed in any room works if limitation. Boiler rooms "C" may have a single entrance / exit.
CALDERA DEFINED WITHOUT WATER LEVEL
They do not have water level since this is not maintained in the interest as it circulates permanent.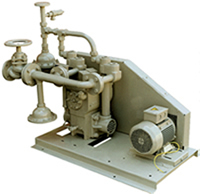 WATER PUMP VOLUME
Fed to the boiler with a volume of water constant, regardless of pressure. If embedding increases the pressure immediately detecting the problem at its source and thereby facilitating their correction capable of working with water to 200.
SAVER WITH BUILT
All boilers have Clayton series economizer zone for feedwater preheating and cooling of the flue gases with consequent energy savings. There are auxiliary economizers that are installed in series with the standard, highly desirable in boilers running on gas. Increase the efficiency of the boiler between 2.5 and 3%.
Food pumps
STEAM SEPARATOR
At the exit of the heating body, the water / steam mixture to a dome / steam separator cyclone separator provided with which expands making a total thermal and mechanical separation of water vapor. The water density drops to the bottom and is removed by a trap buoy invested. The vapor leaving the top of the dome giving a title of excellent vapor and unusual 99.5%.
PLC CONTROL
It has a Modicon (Schneider) Siemens (optional) for control of the entire boiler (not replace the combustion control). It also offers a display screen of both alarm parameters such as working or indication and control. Communication system has Modbus or Profibus (optional) to view the status of boiler on a remote system such as a SAD (Data Acquisition System). It also has free contacts to carry distant signals (eg alarm or start permissions). sequences can be made stop-start.
MINIMAL SPACE OCCUPIED
Visually they occupy a space equivalent to 1/3 to ½ of the space occupied by a surface shell boiler.
Minimum space; Comparison with water tube boiler fire-tube
STAND-BY COLD
When a boiler is in stand-by of another, the cold and without any consumption. Unlike the fire tube must maintain a large mass of hot water.
PRESSURE STABLE
Independent of demand, the pressure remains constant, providing a highly reliable production system.
WARMING AGAINST
The combustion gases are in counter-flow of water / steam sense, producing a high efficiency and optimizing heat exchange.
COIL monotubular
The heating body being formed by a single-tube coil sections and different steps. Section increases progressively from the water inlet to the steam outlet to maintain a stable and constant pressure. The gas passage is at trestobillo between the pipes. The hottest area has a bigger step that narrows as it reaches the colder area, maintaining a constant rate of passage of gases and therefore maintaining high transmission coefficient "k". The coil system has standard cleaning soot that can be used to clean the surface heating with the boiler running.
BURNER disintegrated
Clayton burner is of the type disintegrated, the generator itself with the carrier tubes and the ignition electrode in an area and the fan air fuel another, joined by a conduit being both.